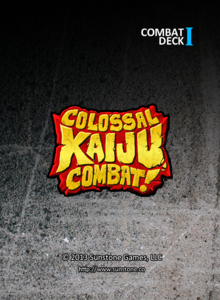 The official Combat Deck Cards for the Colossal Kaiju Combat TCG .
Combat Deck Monster Cards

Edit
Combat Deck Attack Cards
Power CardsEdit
Quick AttacksEdit
BackFlip
Cobra Strike
Elbow
Headbutt
Kick (x2)
Pounce
Projectile (x2)
Shoulder Check (x2)
Spin
Strike & Fade (x2)
Chan AttacksEdit
Air Superiority
Bite (x2)
Blast
Build-Up (x2)
Cartwheel
Crush
Energy Punch (x2)
Gut Buster (x2)
Hammerfist
Hurl Object (x2)
Jab (x4)
Jump Swipe (x2)
Lunge (x2)
Napalm
Overload
Run (x2)
Shin Kick
Stomp
Tail Wip
Uppercut
Whirlwind
Fierce AttacksEdit
Body Slam
Bull Rush
Chomp
Double Hammer
Drop Kick
Eviscerate
Frenzy
Impale
Leg Sweep
Primary Weapon (x4)
Rending Leap
Roundhouse
Slugger
Tail Uppercut
Tail Sweep
Wing Rake
There are 70 cards total (4 Starter Monster, 65 Attack Cards, and 2 Powerup Cards).
The Invader X-05: Planet Killer monster card had a typo in the word Killer (Kller). It is unknown how many Kllers that were missprinted before this was corrected. All who had this typo recived a reprint of the same card with the corrected text.
Ad blocker interference detected!
Wikia is a free-to-use site that makes money from advertising. We have a modified experience for viewers using ad blockers

Wikia is not accessible if you've made further modifications. Remove the custom ad blocker rule(s) and the page will load as expected.